'HOT MAMA' Spicy Treats

SPICY 'HOT' FUDGE


Add to Cart 8oz Container $8.00
Add to Cart 16oz Container $14.00






hotsy ta-ta's
– blood orange cookies enrobed in a spicy creamsicle glaze…
these treats pack a cool citrus 'punch'!
Add to Cart Box of 3 $4.50

Add to Cart Box of 6 $9.00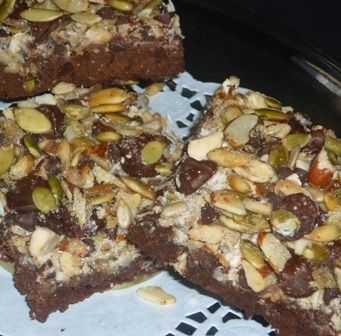 RATTLESNAKE BITES -
Our award winning fudge truffle Ancho chili brownie is topped with cream sauce, roasted nuts
& chunks of bittersweet chocolate. Our own spicy, toasted pepitas crown this southwest favorite! Rich as a candy, elegant enough for dessert!


Add to Cart 5"x 4" box $7.00
Add to Cart 6" x 7" window box $16.00
Add to Cart 8" square pan $20.00
"Holy Mother of God!" Mix
– start with almonds & peanuts, add fresh fragrant chili, spices, glaze the whole fiery mess then dust with red pepper flakes.
Sure to give your taste buds a kick!
Add to Cart 6oz Bag $8.00
Add to Cart 12oz Bag $12.00
fRENCH tICKLER
– our ever popular Vanilla Fig Almonds -- with 'kick'! Almonds & ripe figs roasted with Madagascar vanilla, white pepper, balsamic vinegar & a touch of habenero for a sweet heat that you're gonna love!
Add to Cart 6oz Bag $8.00
Add to Cart 8oz Bag $12.00